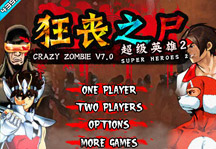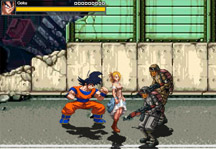 Crazy Zombie 7: Super Heroes 2 is a classic beat 'em up game in which heroes from different universes are fighting side by side with deadly dangerous monsters. No less than 20 characters are waiting for you to face this challenge together! This time, the developers added 4 new characters: Seiya (Saint Seiya), Cyclops (X-Men), Syo Kirishima (King of Fighters), and Dog Man.
Crazy Zombie 7 allows you to play in several different modes, in which you'll destroy zombies and other monsters in many different ways. At the beginning, there is available only Eschatology Mode and Challenge Mode, which you must beat to play other parts of the game. You'll find there many different levels where you can prove your skills. Invite your friend to fight together using one keyboard. Two heads are better than one!
You can improve your characters during the game. Upgrade attack power, defense, HP, add HP and energy regeneration. You can even unlock the rebirth option, which means one extra life. You'll need some cash to get these improvements. You can earn money by picking up valuable items. The stronger opponent, the more valuable rewards and as a result more money.
Your character can move in four directions ( W S A D ), jump ( K ), pick up items ( J ), attack in melee range ( J ), attack from a distance ( L ), perform special attacks ( U ), and use powerful ultimate attacks ( I ). For some actions, your character needs energy which you can charge by attacking opponents or pressing O. Various combinations of directional keys with attacking keys can result in spectacular combos!
You'll find default key bindings for both players below. If you want, you can change the key bindings in Options > Control > Custom menu.
All playable characters in Crazy Zombie 7: Shimo, Sonson, Skullomania, Goku, Zero, Mina, Mario, Chicken, Hulk, Knight, Freeza, Asuna, Mebius, Orochi, Bob Parr, Kenji, Dog Man, Syo Kirishima, Seiya, and Cyclops. Who will you choose?