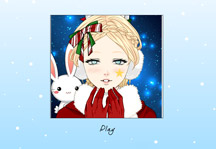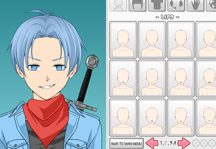 If you ever dreamed to create your own unique anime character, here you can finally do it. Mega Anime Avatar Creator by Rinmaru and PrinceOfRedroses allows you to create wonderful characters, both boys, and girls, and then save your creation to a .jpg file (using the orange camera icon at the bottom of the game screen) and use it on your favorite forum, blog or share with your friend on Facebook. This Anime Avatar Creator contains a huge number of combinations and possibilities, so you can spend a lot of time here!
The creation of your character should, of course, begin by defining its genetic features. You can choose from many skin colors, both realistic and fantasy. Then choose a type of nose, moles and freckles, ears, scars, eyes, eyebrows, lips, facial hair, and even tears. When your character's head looks the way you want, it's time to take care of hair. Each element of the hairstyle can be in any style and have a different color. The only limit is your imagination! When the hair is ready, and the head of your character looks like you dreamed it out, time to dress some interesting clothes. You'll find here a huge amount of tops, vests, collars, outerwear, scarves, and other accessories, thanks to which you'll create exactly the creation that you want. Remember that every element of your character's clothes can have a different color!
Have you chosen clothes? Great! Now it's time to add some unique elements to your character. Think what anime you like the most. Will you choose wings, or maybe ninja headband? Or maybe something unrelated to the anime? Santa's hat or Lightsaber will also fit perfectly! Check all back accessories, necklaces, earrings, glasses, plushies, head accessories, hats and extra items, and your character will surely become unique and graceful! Do you know that we can transmit a lot of information with our hands? The creators of this great application know this, so they also spent a lot of time working on the hands of your character. You can choose any gesture or give your character some interesting item to hold in hand (or hands). What will you say about Pokeball? Or maybe Kunai? You will definitely choose something that suits your interests! In the end, you should choose the background. Will your character be in the forest, on the beach or maybe on another planet? As always, the choice is yours.
How to save my avatar?
Click on the orange camera icon at the bottom of the screen to save your image to a .jpg file. You can use it wherever and however you like!