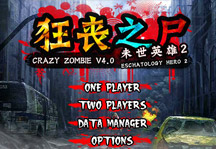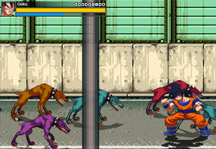 Crazy Zombie 4.0: Eschatology Hero 2 brings heroes from different worlds to fight together against bloodthirsty zombies. The fourth edition of the popular crossover beat 'em up game adds many updates, including the Super Saiyan mode. Now Goku can greatly increase his power during the fight to destroy the undead even more effectively. There is also a new character: Fighting Chicken from Family Guy.
If you haven't played previous Crazy Zombie games, don't worry, gameplay is simple and intuitive. You have to defeat all enemies on the screen and survive. Of course, there are other conditions for winning in each game mode. Eschatology Mode and Challange Mode are available immediately. Beat them and unlock Survival Mode and Eschatology Mode 2, in which the fun is even bigger! If you need support, invite your friend to play together using one keyboard!
Defeat your opponents, destroy crates, boxes, and other objects, and pick up valuable items. You'll receive money that you can use to improve your characters. Improving your character is essential to completing the story mode -- it's very difficult. You can upgrade HP, attack power, defense, add health and energy regeneration, and even buy the rebirth option. You need a lot of money to improve everything to the max!
Your character can move in four directions ( W S A D ), jump ( K ), pick up items ( J ), attack in melee range ( J ), attack from a distance ( L ), perform special attacks ( U ), and powerful special attacks ( I ). For some actions, your character needs energy which you can charge by attacking opponents or pressing O. Various combinations of directional keys with attacking keys can result in spectacular combos!
You'll find all default key bindings for both players below. If you want, you can change the key bindings in Options > Control > Custom menu.
All playable characters in Crazy Zombie 4: Shimo, Sonson, Skullomania, Goku, Zero, Mina, Mario, and Chicken. Who will you choose?