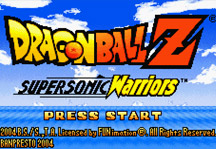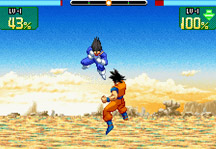 A dynamic Dragon Ball Z fighting game in which you can re-experience the most important battles that you know from manga and anime.
You have several game modes to choose from. Each character has a unique story mode in which you can once again experience the events of their lives. If you want a quick fight, check out your skills Free Battle Mode. When you find that you have enough skills, fight in Challange Mode and face most difficult challenges! If you're still feeling weak, check out Training Mode, where you'll learn the basics of the game and practice your skills.
Combat is a combination of fast melee attacks and powerful flashy moves that we all know and love. You can learn how to play very quickly, but it takes time to gain experience in the proper use of your skills. Special attacks can be can be performed in a simple way. Just use the key combination with attack and energy charge keys. You can make the strongest attack (including Kamehameha) by pressing D + Z + X. Also try the combination of D + Z or D + X.
You don't have to start the game from the beginning if you've played it before. Hover over the game screen and use the icons to save (down arrow) or load (up arrow) your progress. If you want, you can also change key bindings (gamepad icon).
You can find more information about Dragon Ball Z Supersonic Warriors and sequel Dragon Ball Z Supersonic Warriors 2 in our encyclopedia.