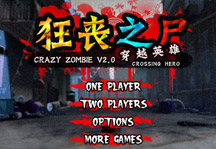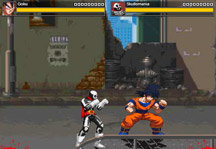 In Crazy Zombie 2.0: Crossing Hero, four brave heroes stand to fight against undead monsters. This classic beat 'em up game allows you to check your fighting skills against a zombie horde that destroys everything in its path. Your quest is very difficult and the opponents will not give you favors. You can invite your friend to play together. Fight against bloodthirsty zombies using one keyboard!
Crazy Zombie 2 instantly allows you to play in the Challange Mode, in which 8 difficult levels await you. Lots of different enemies, including powerful bosses, will try your skills. Watch out for every step, because your health points will disappear very quickly if you're not careful! When you beat Challenge Mode, you'll unlock the new Survival Mode. Check how long you can keep in the fight against countless enemies!
You can pick up valuable items and then upgrade your character for earned money. Improve attack power, defense, HP, unlock HP and energy in-combat regeneration, and even the rebirth option! You'll need a lot of money to unlock all the improvements. Try higher levels of difficulty, you can get much more valuable rewards and make more money!
Your character can move in four directions ( W S A D ), jump ( K ), pick up items ( J ), attack in melee range ( J ), attack from a distance ( L ), perform special attacks ( U ), and powerful special attacks ( I ). For some actions, your character needs energy which you can charge by attacking opponents or pressing O. Various combinations of directional keys with attacking keys can result in spectacular combos!
You'll find all default key bindings for both players below. If you want, you can change the key bindings in Options > Control > Custom menu.
All playable characters in Crazy Zombie 2: Shimo, Sonson, Skullomania, and Goku. Who will you choose?