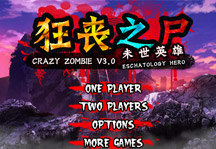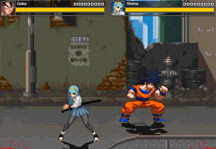 In Crazy Zombie 3.0: Eschatology Hero, heroes from different worlds were gathered again to fight together with the undead monsters. This time, the developers have also added some new features to the game. In addition to several improvements and bug fixes, two new characters have been introduced: Zero (Mega Man Zero) and Mina Majikina (Samurai Shodown). These two cannot wait to kick some undead butts!
In this crossover beat 'em up game you can play in 3 different modes: Eschatology, Challange, and Survival. Each of them will provide you a lot of fun, but know that the fight won't be easy. Eschatology is the equivalent of Story Mode. Your character meets a girl and small group of soldiers chased by monsters. Defeat these beasts and learn the whole story of the game! This mode is very difficult and probably better to start with the Challange Mode, where you can choose the level of difficulty. Get some experience and fight with more and more difficult opponents! Complete Eschatology Mode and Challange Mode to unlock the hardcore Survival Mode, in which you'll face a real challenge!
Pick up valuable items. You'll receive money that you can use to upgrade your characters. You can improve everything: attack power, defense, number of health points, add health and energy regeneration, and even buy a rebirth option, thanks to which you'll be able to return to the fight immediately after being defeated! If you want to complete the entire Eschatology Mode, you'll need these improvements.
Your character can move in four directions ( W S A D ), jump ( K ), pick up items ( J ), attack in melee range ( J ), attack from a distance ( L ), perform special attacks ( U ), and powerful special attacks ( I ). For some actions, your character needs energy which you can charge by attacking opponents or pressing O. Various combinations of directional keys with attacking keys can result in spectacular combos!
You'll find all default key bindings for both players below. If you want, you can change the key bindings in Options > Control > Custom menu.
All playable characters in Crazy Zombie 3: Shimo, Sonson, Skullomania, Goku, Zero, and Mina Majikina. Who will you choose?