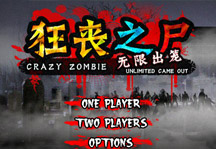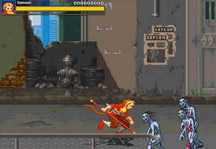 Crazy Zombie 1.0: Unlimited Came Out is a first part of the crossover beat 'em up game series, in which heroes from different universes fight together with bloodthirsty zombies and other terrifying monsters. Play as Shimo or Sonson and use special skills to gain an advantage in battle. There are eight different levels, where many enemies, including powerful bosses, will check your limits. Choose one of four levels of difficulty to match the game to your skill level. Also, invite a friend and fight with monsters together using one keyboard.
Your character can move in four directions ( W S A D ), jump ( K ), pick up items ( J ), attack in melee range ( J ), attack from a distance ( L ), perform special attacks ( U ), and powerful special attacks ( I ). For some actions, your character needs energy which you can charge by attacking opponents or pressing O. Various combinations of directional keys with attacking keys can result in spectacular combos!
You'll find all default key bindings for both players below. If you want, you can change the key bindings in Options > Control > Custom menu.