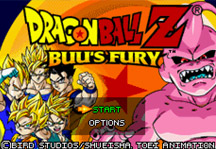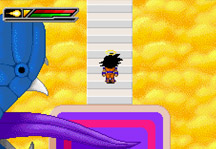 Dragon Ball Z Buu's Fury is the third and last part of the popular Dragon Ball Z Legacy of Goku series. Just like the previous parts, this is an Action RPG game in which a player can relive the events of the TV series. After intense fights with Frieza and Cell, now it's time to defeat a powerful Buu.
Dragon Ball Z Buu's Fury follows the Buu Saga events (episodes 195-291). You'll also meet characters from Dragon Ball Z movies such as Broly (Dragon Ball Z: Broly The Legendary Super Saiyan) as well as Janemba and Gogeta (Dragon Ball Z: Fusion Reborn).
There are 12 chapters in the game. In every episode you'll control the actions of another character. You can move in all directions ( , , , ), use melee attacks ( Z ) and ki blasts ( X ), block opponent attacks ( S or S + X for energy block), and charge energy ( S ) to increase the power of your attacks. Each character has several special attacks that can be changed during combat ( A ). You'll also find many items that will help you on your journey.
You don't have to start the game from the beginning if you've played it before. Hover over the game screen and use the icons to save (down arrow) or load (up arrow) your progress. If you want, you can also change key bindings (keyboard icon).
You can find more information about Dragon Ball Z The Legacy of Goku, Dragon Ball Z The Legacy of Goku 2, and Dragon Ball Z Buu's Fury in our encyclopedia.