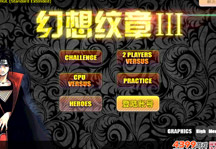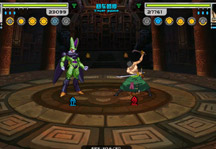 Anime Battle 3.4 is one of the biggest crossover anime fighting game, created for years with passion. The latest edition of the game is a huge update. This version adds 8 new playable characters and it's one of the biggest updates in the game's history-- but still isn't even close to the update in Anime Battle 2.2, which added 17 new characters! Now you can choose from 32 characters from the popular anime series and fight for the title of the strongest warrior! Many exciting game modes -- including two player challenges -- will keep you and your friends great fun for hours!
The most interesting of the new characters are Itachi Uchiha (Naruto), Cavendish (One Piece), and Charizard (Pokémon). They joined such characters as Goku, Krillin, Future Trunks, Frieza, Cell, and Broly from Dragon Ball Z, Luffy, Zoro, Sanji, Ace, and Trafalgar D. Water Law from One Piece, and many other characters from anime like Bleach or Sword Art Online. Each of the 32 characters has unique attributes and skills. Some of them use brute strength but are slow, others are fast and perform great special attacks, and some of them are very survivable but deal lower damage. Regardless of how you like to play, here you'll find a character for yourself!
A lot of exciting and challenging game modes will keep you entertained for a very long time. Challenge powerful bosses in Heroic Challenge, defeat other heroes controlled by computer AI, fight 1v1 or 2v2 in cooperation with your friend! If you feel strong, you can try your strength in the 1v3 challenge. In Practice mode, you can check the skills of different characters and practice some tactics for your next battles.
Your character can move left and right ( A D ), block enemy attacks ( S ), attack with basic skills ( J ), and special attacks ( U I O ), jump ( K ), and use dash ( L ). Combine different skills to perform deadly combos. If there's more than one character in your team, you can change them by pressing H. During the fight, press ENTER to pause. Then you can also return to Menu screen ( E ) or to Character select screen ( X ).