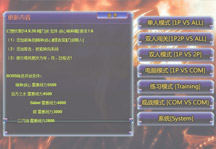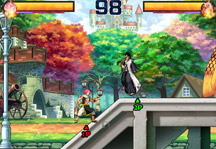 Anime Battle 2.1 is another version of the popular crossover fighting game, in which heroes from various anime series fight each other for the title of the best fighter. This time we got nine new characters and five new maps. Choose your favorite hero and lead him to the victory in an epic battle, where great powers from many different worlds meet each other.
This version adds 9 new heroes from your favorite anime series and movies. Fans of the Shinobi world from the Naruto franchise (Naruto, Naruto Shippuuden, Boruto), especially fans of the Uchiha clan, gains new fighters such as Itachi Uchiha, Obito Uchiha, Sasuke Uchiha with his Rinnegan, and Hinata Hyuga. The pirate crew from One Piece has been expanded by Brook, Nami, and Zoro ("two years later" version). Also Ichigo Zangetsu (Zanpakuto Spirit) from Bleach joined the game's roster. You can immediately check skills of new characters--they use the same flashy moves that you saw in the anime!
Like previous versions of the game, Anime Battle 2.1 also offers several exciting game modes. You can fight against computer AI in Arcade or Deathmatch modes, or invite your friend to play together using one keyboard. Developers have prepared two modes for two players: Co-op and Versus. Fight against the computer together or check which of you is better! If you need some practice, check out Training mode. Anime Battle 2.1 also adds 5 new maps on which you'll fight!
Your character can move left and right ( A D ), block enemy attacks ( S ), attack with basic skills ( J ), and special attacks ( U I O ), jump ( K ), and use dash ( L ). Combine different skills to perform deadly combos. During the fight, press ENTER to pause or ESC to back to the menu. Unfortunately, the game doesn't allow you to change the key mapping. You can turn on and off music and sound in the Options menu.