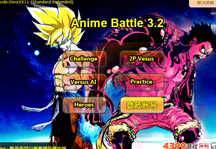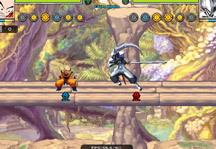 Anime Battle 3.2 once again allows you to check which of your favorite anime characters is the strongest. In this game, you'll experience epic clashes in many interesting singleplayer and two player game modes. After completely redesigning in version 3.0, Anime Battle gains new playable characters and now you can choose from 22 heroes from many different series. A great battle between anime legends is waiting for you!
Everyone has their favorite anime heroes. Who is yours? Here you can find characters such as Goku, Krillin, Frieza, and Cell from Dragon Ball Z, Luffy, Zoro, Sanji, and Ace from One Piece, Kirito from Sword Art Online, and many more. Next to the anime heroes, there are also great fighters from other popular fighting games like Moriya Minakata from The Last Blade (SNK). Each character has different attributes and has a unique gameplay. Some are slower but they deal powerful damage, others are quick but their blows are weaker. Choose the style you like the most and start your fight!
You can fight in many different game modes. Challenge yourself in intense matches fighting 1v1, 2v2 and even 1v3. Invite your friend and fight in vs or co-op mode. The game will test your skills. If you think you need some training, visit the Practice mode where you can train as you like.
Your character can move left and right ( A D ), block enemy attacks ( S ), attack with basic skills ( J ), and special attacks ( U I O ), jump ( K ), and use dash ( L ). Combine different skills to perform deadly combos. If there's more than one character in your team, you can change them by pressing H. During the fight, press ENTER to pause. Then you can also return to Menu screen ( E ) or to Character select screen ( X ).