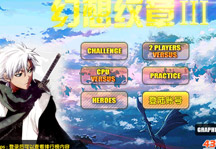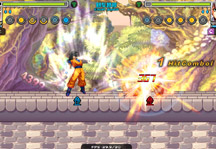 Anime Battle 3.3 is another edition of the popular crossover fighting game, in which powerful warriors from various anime series fight for the title of the strongest. After a complete redesign in version 3.0, the new Anime Battle is even better than ever before! This time three characters have been replaced by others and two additional heroes have been added to the game roster. Now you can choose from 24 playable characters that have been even better balanced. Fight alone or invite your friend to play together in two player mode!
Tôshirô Hitsugaya and Trafalgar D. Water Law join the game. The young captain from Soul Society (Bleach) and the Surgeon of Death (One Piece) should be taken seriously cause both are powerful warriors. They joined legends like Goku, Krillin, Trunks (Future), Frieza, Cell, and Broly from Dragon Ball Z, Luffy, Zoro, Sanji, and Ace from One Piece, Kirito, Asuna, and others from Sword Art Online, and many more. Each character has unique skills and attributes, which means each of them received a slightly different gameplay. Regardless of whether you prefer, speed or brutal force, you'll find something for yourself!
Do you like challenges? Anime Battle 3.3 allows you to check your skills in many difficult trials. Aside from classic 1v1 and 2v2 fights, you can show your domination in the 1v3 challenge! If you think you need some training, the game includes a Practice mode, in which you can train what you want using many different options. Play exciting matches with your friend in versus mode using one keyboard. You can also fight against the AI computer in co-op mode and work together for a victory. In this game, you'll have fun for long hours!
Your character can move left and right ( A D ), block enemy attacks ( S ), attack with basic skills ( J ), and special attacks ( U I O ), jump ( K ), and use dash ( L ). Combine different skills to perform deadly combos. If there's more than one character in your team, you can change them by pressing H. During the fight, press ENTER to pause. Then you can also return to Menu screen ( E ) or to Character select screen ( X ).