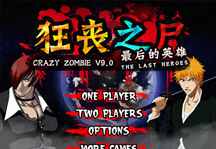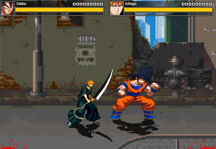 The fate of this world lies in your hands once again. The living dead is still a deadly threat to us all. Choose one of 24 characters and face them alone or in coop with your friend using one keyboard. New heroes appear in Crazy Zombie 9! Ichigo Kurosaki from Bleach and Lori from the King of Fighters arcade fighting games series will gladly lend you their skills to fight the hordes of undead.
This classic beat 'em up game, like its previous eight editions, contains many game modes but to discover them all you must first show up in the Challange Mode. You have to face the deadly threat on 8 different levels on which you must survive the attacks of bloodthirsty undead. Fortunately, you have a whole arsenal of attacks at your disposal. Use them well and you'll survive!
Your character can move in four directions ( W, S, A, D ), jump ( K ), pick up items ( J ), attack in melee range ( J ), attack from a distance ( L ), perform special attacks ( U ), and powerful special attacks ( I ). For some actions, your character needs energy, which you can charge by attacking opponents or pressing O. Various combinations of directional keys with attacking keys can result in spectacular combos!
You'll find default key bindings for both players below. If you want, you can change the key bindings in Options > Control > Custom menu.
All playable characters in Crazy Zombie 9: Shimo, Sonson, Skullomania, Goku, Zero, Mina, Mario, Chicken, Hulk, Knight, Freeza, Asuna, Mebius, Orochi, Bob Parr, Kenji, Dog Man, Syo Kirishima, Seiya, Cyclops, Naruto, Douwa, Iori, Ichigo. Who will you choose?
Also very popular Dragon Ball games on our website right now are: Super Smash Flash 2 1.0.3, Dragon Ball Z Supersonic Warriors Online and Dragon Ball Z Battle.