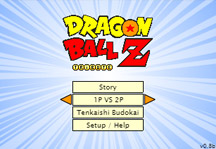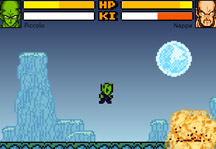 The game is no longer available.
Dragon Ball Z Tribute 0.8b was one of the most popular fan-made fighting games based on Dragon Ball Z franchise and it's the last available version before changing title to Dragon Ball Z Devolution. The project was created in 1999 and in 2004 was moved to Flash. The first publication took place in Newgrounds where the game received high ratings and gained great popularity. The first playable version was very similar to the Game Boy games. This version is already full-color, though unfortunately still locked in a very low and non-scalable resolution.
You can choose from several game modes available from the beginning. Story mode allows you to experience once again the most important battles you know from the Dragon Ball Z series. It starts with a duel of Goku and Piccolo at 23rd Tenkaichi Budokai which took place at the end of the first TV series. In Versus mode, you can fight against opponents controlled by computer AI or invite your friend and check out which of you is a better fighter. There's also the possibility to watch the fight between two characters controlled by the CPU. The third mode is Tenkaichi Budokai, in which up to 8 players or CPU characters can compete each other.
Gameplay is a bit more difficult than in the next versions of Dragon Ball Z Devolution because the energy charging and block are assigned to separate keys. Characters can move in all directions ( ), attack from a distance or in melee range depending on how far the opponent is ( X ), charge energy ( C ) and block opponents' attacks ( V ). If you want to move quickly, you can also dash ( C + directional key). Good energy management is very important and may affect your victory or failure. By charging energy you gain access to more powerful special attacks (like Kamehameha) and transformations that increase all character statistics. The longer you hold the attack key, the more powerful Ki attack will be. Remember, you can change key binds for both players in Setup menu.
If you like this game, check out the latest version of Dragon Ball Z Devolution containing much longer Story, huge amount of characters and stages, as well as completely new game modes. It's also scalable so you can play at a higher resolution than here. More information on the game also can be found on the official website.