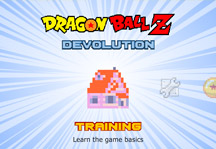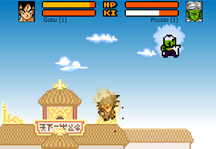 One of the most popular fan-made Dragon Ball fighting games, developed since 1999 (formerly known as Dragon Ball Z Tribute). The biggest advantage of Dragon Ball Z Devolution is simple graphics and fast, enjoyable gameplay. You have an ability to move ( , , , ), attack ( X ), block ( C ), and it all depends on how well you can use these skills. After a simple training session, you can re-experience events of TV series and the Dragon Ball Z movies.
Help your favorite characters such as Goku, Vegeta, Piccolo, Gohan, Trunks in a fight against powerful enemies. Many interesting game modes and an ability to play with friends on one computer will provide you hours of fun.
The game is constantly updated. In the latest version of Dragon Ball Devolution, you'll also meet characters from Dragon Ball GT, Dragon Ball Super and even from other Dragon Ball games like Dragon Ball Heroes and Dragon Ball Xenoverse 2! You can find more information on the official website.
Also very popular Dragon Ball games on our website right now are: Dragon Ball Z Legacy of Goku 2 Online, Dragon Ball Fierce Fighting 2.1 and Dragon Ball Memory.