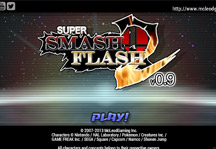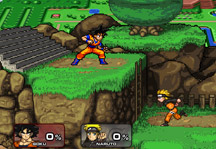 Super Smash Flash 2 0.9 is an another release of one of the most popular fan-made fighting games these days. If you've wanted to experience new game modes and play as characters from the popular manga and anime series on the arenas of Super Smash Bros., here your dream will come true. The Super Smash Flash 2 series is developed by McLeod Gaming continuously since 2006 and adds a new exciting content with each release. This time the roster has been increased by three new characters (Marth, Zero Suit Samus, and Chibi-Robo), replay system, new look for some already existing characters, and a long-awaited new online mode in which you can compete with players from around the world.
Like the official Super Smash Bros. and previous versions of the second edition of Super Smash Flash, your task is not standard defeat opponents but throwing them off the arena. Classic health bars have been replaced here by percentage counter, which increases the damage received. The higher the percentage of damage, the attacks send the opponent further until completely thrown out of the arena. The game allows you to play in many single-player modes, but you can also invite your friends to fight and compete with each other for up to 4 players in team fights or a standard deathmatch. If this is your first contact with the Smash Bros-like game. you'll find here an extensive tutorial that will introduce you to the all game's mechanics.
One of the biggest attractions of the game is of course the huge number of heroes from many different games and manga series. You will meet here the entire Nintendo elite like Mario, Donkey Kong, Link, and Kirby, as well as such stars as Sonic, and the manga characters like Ichigo and Naruto. Dragon Ball Z is represented by Goku. This is the only opportunity to create amazing teams that you will not find in any other game. Combining the skills of different heroes can be crucial in team fights. From time to time there are special items dropped on the arena that can help you, but also harm you if you don't use them carefully.
Characters in the game can move ( ), crouch ( ), jump ( ), attack in melee range ( O ) and from a distance ( P ) , grab and throw the opponent ( U ) and block attacks ( I ). Each hero can perform deadly combos and use the most popular special attacks (for example, Goku can use Kamehameha). Using the character's full potential with such a dynamic gameplay requires some practice, but after mastering the mechanics, each hero can become an unstoppable force in your hands.
You can also download the latest version of Super Smash Flash 2 in our Download section.