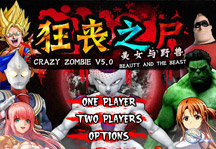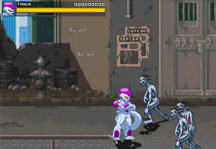 Crazy Zombie 5.0: Beauty and the Beast is the next edition of classic crossover beat em up game, in which heroes from various worlds fight against undead monsters! In this action-packed game, you'll face the biggest nightmares, but anytime you can invite your friend and fight together using one keyboard! In Crazy Zombie 5 you'll meet 4 new playable characters: Knight (Dungeon Fighter Online), Frieza (Dragon Ball Z), Hulk, and Asuna (Sword Art Online). The new version also adds a new game mode, Battle Mode.
In Crazy Zombie 5 you can play in 4 different game modes. Eschatology Mode and Challange Mode are available immediately and you must beat them to unlock the other two: Battle Mode (new) and Survival Mode. The game is full of content and will give you a lot of fun for many hours!
For every valuable item you pick up, you'll receive some money which you can spend on improving your characters. Upgrade attack power, defense, HP, buy health and energy regeneration during combat, and even the rebirth option. The more you play, the more powerful your characters become!
Your character can move in four directions ( W S A D ), jump ( K ), pick up items ( J ), attack in melee range ( J ), attack from a distance ( L ), perform special attacks ( U ), and powerful special attacks ( I ). For some actions, your character needs energy which you can charge by attacking opponents or pressing O. Various combinations of directional keys with attacking keys can result in spectacular combos!
You'll find all default key bindings for both players below. If you want, you can change the key bindings in Options > Control > Custom menu.
All playable characters in Crazy Zombie 5: Shimo, Sonson, Skullomania, Goku, Zero, Mina, Mario, Chicken, Hulk, Knight, Freeza, and Asuna. Who will you choose?