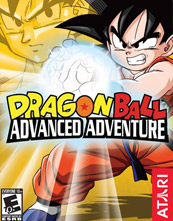 Developer:

Dimps

Platforms:

Game Boy Advance
Publisher:

Banpresto, Atari

Released:

November 18, 2004June 6, 2006June 17, 2005
About Dragon Ball Advanced Adventure
ドラゴンボール アドバンス アドベンチャー, Doragon Bōru Adobansu Adobenchā
Dragon Ball Advanced Adventure is a 2D platform/fighting game for Game Boy Advance, in which once again we can see the adventures of Goku from the very beginning of the series. It has been developed by Dimps and published by Banpresto (JP) and Atari (US and EU).
Game modes
The game includes three main game modes - Story, Versus and One-On-One. After the player has completed Goku's Story Mode it unlocks Extra Mode.
Story
The game is mainly based on the story mode. Goku after meeting Bulma, goes on the adventure to find the Dragon Balls. The game generally keeps to the main storyline from manga and anime, but of course the player will take part in several events, which in the original story didn't take place. Not all events were also included in the game. The main missing is the Piccolo Junior storyline.
Gameplay
The Story mode can be divided into three main types of levels - Platform, Nimbus and One-On-One. Most of the gameplay is a typical platform game where the player moves to the right or left, fight the enemies, jump on platforms and collect treasures. From time to time, Goku jumps on his Nimbus and fights with opponents in the air. An interesting interludes are fighting scenes with major opponents from first series like Yamcha, Pilaf or Tao Pai Pai. The player also take part in a Martial Arts Tournament.
Advanced Adventure received 75/100 on Metacritic.
Rate this game:
4.3 91 votes