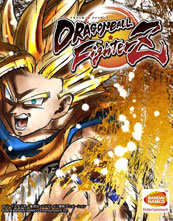 Developer:

Arc System Works

Platforms:

PlayStation 4, Xbox One, PC
Publisher:

Bandai Namco

Released:

2018
About Dragon Ball FighterZ
Dragon Ball FighterZ is a 2.5D fighting game that uses a three-vs-three team battle system that incorporates ultra high-speed battles and flashy moves that the Dragon Ball series is known for. The game is being developed by Arc System Works and will be released by Bandai Namco for PlayStation 4, Xbox One, and PC in early 2018.
Key features
Arc System Works knows how to make good fighting games. In Dragon Ball FighterZ, we'll see many exciting features.
3v3 Tag/Support – Players will be able to train and master skills and styles of several characters at the same time. Combining the power of several characters will give you incredible effects.
High-End Anime Graphics – The Unreal Engine 4 and the Arc System Works team skills are explosive combinations. The first trailer confirmed that the players will receive beautiful visual effects.
Spectacular Fights – Players will be able to experience aerial combos, destructible environments, the most famous scenes known from the anime in 1080p resolution and 60FPS. Higher resolution will be supported on PlayStation 4 Pro and Xbox One X.
Characters
For this moment Bandai Namco announced 9 playable characters along with all their most famous transformations. These are all the characters that appeared in the first trailer: Goku, Vegeta, Gohan (Cell Saga), Future Trunks, Krillin, Piccolo, Cell (Perfect), Frieza (including Golden Frieza) and Majin Buu. Looking at the previous Dragon Ball games, we can be sure that the playable characters will be much more.
Developer
Arc System Works is a game developer known for solid fighting games like Guilty Gear, BlazBlue, Persona 4 Arena. They are also creators of the Dragon Ball Z Supersonic Warriors, Dragon Ball Z Supersonic Warriors 2 and Dragon Ball Z Extreme Butōden, so they also proved that they can create a good game set in the Dragon Ball universe.
Preorder
Dragon Ball FighterZ Preorder (Digital Code) is available to PlayStation 4, Xbox One and PC players located in the United States via Amazon ($59.99 USD). Availability date is set to March 31, 2018 at 12:00 AM PST..
Closed beta
Players will be able to take part in a closed beta before the end of this summer. We don't know yet the exact date, but it'll be announced soon. A closed beta will be held on PlayStation 4 and Xbox One.
Links