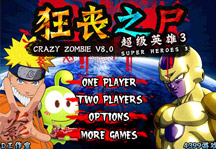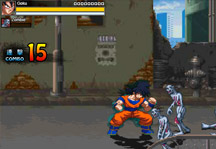 Crazy Zombie 8.0 is the eighth edition of the popular crossover beat 'em up game, in which heroes from various universes fight together against the zombie scourge. The long-awaited Naruto, Frieza with his Golden Form, and Douwa joined the fight, so now you can choose your hero from 22 playable characters. Play alone or with your friend using one keyboard. A series of really challenging clashes await you in which any help will increase your chances!
Update 8.0 like all previous editions allows us to play in several game modes. If you want to unlock them, you have to beat a Challange Mode first. If you think it's a simple task, you're wrong. The monsters that you'll fight with don't hear about pity and your health points will disappear very often if you'll not be careful. Fortunately, you can use the super powers of powerful heroes such as Goku, Hulk, Ultraman, and many others. This slightly increases your chances, but it doesn't guarantee success!
Your character can move in four directions ( W, S, A, D ), jump ( K ), pick up items ( J ), attack in melee range ( J ), attack from a distance ( L ), perform special attacks ( U ), and powerful special attacks ( I ). For some actions, your character needs energy, which you can charge by attacking opponents or pressing O. Various combinations of directional keys with attacking keys can result in spectacular combos!
You'll find default key bindings for both players below. If you want, you can change the key bindings in Options > Control > Custom menu.
All playable characters in Crazy Zombie 8: Shimo, Sonson, Skullomania, Goku, Zero, Mina, Mario, Chicken, Hulk, Knight, Freeza, Asuna, Mebius, Orochi, Bob Parr, Kenji, Dog Man, Syo Kirishima, Seiya, Cyclops, Naruto, and Douwa. Who will you choose?
Also very popular Dragon Ball games on our website right now are: Dragon Ball Fierce Fighting 2.9, Crazy Zombie 4.0 and Dragon Ball Fierce Fighting 2.0.